Incident Reporting Software
>>
Free Incident Report App
Published 26/06/2021
Free Incident Reporting App - Live Incident Reports
Ranked #1 on the App store for Incident Report
Available since 2012
Used by thousands across the planet
Download the Free Incident Report App for iPhone or Android
Constantly updated - leading the future of Incidnet Reporting
A game changer for live incident reports in the workplace



Report Incidents in real time from your phone or tablet
Presenting the worlds number one ranked Incident Reporting App on the App store: Report incidents such as injury incidents, security, property damage, near misses live and in real time. Assign to team members with live notifications and escalations, submit corrective actions and even options to create custom created incident forms and more

It's important your staff are able to submit incidents as they occur, are witnessed or are observed. Throw away paper forms and enable real time capture of the incident using the incident report app. Capture photos, immediate imformation and statements about the incident at the time of occurance. Real time notification of the incident to the responsible person.



Our Incident App Library


Incident treporting App | Safety Observation | Near Miss Report | Create a form

Get started here and view the demo, templates and reporting free:



Submit Incident Reports
There are many types of incidents, using the Incident Report app you can report them in real time as they occur, capture a photo, enter the basics of what happened and ensure the right people are notified. Incidents such as injuries, security, property damage, environmental, quality, safety observations and hazards can all be reported from the app. No two incident report forms are the same! Well, I'm sure there are but every organisation is different, in different industries and has different workplace requirements. Custom tailor your incident report form to suit your specific industry and requirements. Ask the questions that relate to the specifics of your workplace and workers. Make sure you are collecting the information you need for things like workers comp claims and liability reports and ultimately, enough for you to investigate and prevent this incident from happening again!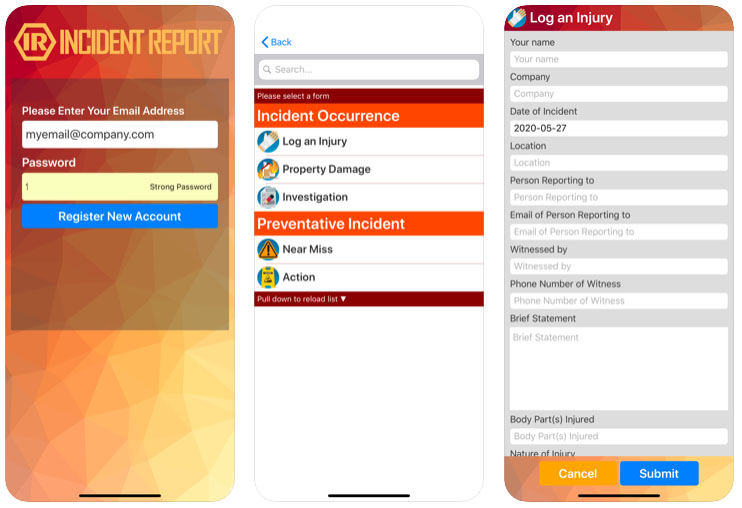 Submit Near Miss Reports
Near miss reports can lead to preventing potentially serious incidents. Using our Incident Reporting app, your team or workforce can submit Near Miss reports and ensure the entire workforce is empowered to report near misses live and in real time.


Options to create your own Incident Report form
Your form, your workflow, your notifications, your way! Using our form builder you can easily create any type of online incident report form and have your users access and submit reports in realtime


Even get your own Incident Report app!
Nothing beats having your own branding and personalised app on the app store, specific to your workforce and your organisation. Powered by our software, you can deploy your own dedicated, branded and personised incident report app


Ask these questions
What kind of incidents do you want to enable reporting of in your workplace? Do you manage contractors, employees and visitors? Do they have the ability to lodge an online incident report? In their own words?


Download and Fast Start
Start reporting Incidents right away, no setup, instantly start reporting. The fastest and easier to use Incident Reporting App, first launched in 2012 and used by thoiusands across the planet.

Download for Free on iPhone or iPad
Free Download for Google Play