Incident Report Software
>>
Hazard Reporting
>>
Hazard Report App
Published 26/04/2021
Hazard Reporting App: Submit Hazard Reports and 2022 App Tips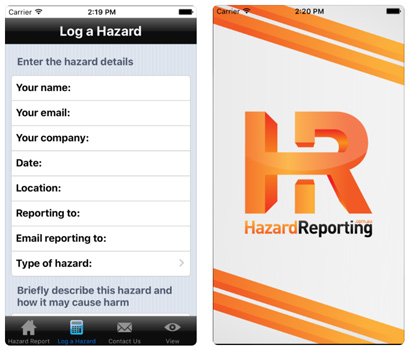 Hazard Reporting is a critical process for all workers in a workplace to make sure they are both reporting hazards they encounter in the workplace but also aware of existing ones in order to prevent injuries or even death. Using the Hazard Report app, all staff, contractors and visitors can be empowered to capture and report hazards in the workplace and have the tool available at their fingertips to be aware of existing hazards already reported. Know how to identify hazards, what to do about them, how to classify and report hazards and prevent coworkers and themselves from harm.

The Hazard Report app is ranked #1 on the app store when you search Hazard Report - Available on the app store since 2012!
Used by thousands across the planet for hazard reporting in the workplace
A game changer for live hazard reports in the workplace

Setup your Hazard Report app


Hazard Report Form
One size doesn't fit all when it comes to hazard reporting, every workplace is different! But the goals are the same when it comes to hazard reports, classifying what type of hazard was observed, describing how it can cause harm, how was it identified in the first place? where, when, was there an incident and what's its risk assessment?
Types of hazards include Working at heights, Hand Tools, Slips / Trips / Falls, Occupational Disease, Manual Handling, Electrical Safety, Working Environment, Emergency Response Traffic Safety, Fire and Explosion, Hazardous Equipment, Security, Hazardous Substance, Ergonomics, Bullying / Harassment. Classifying the hazard might range from Internal Audit, Staff Consultation, Duty Managers Log, Near Miss, General Observation Guest Report, Work Site Inspection, Injury / Incident Report, Maintenance Request, External Audit.

Try our hazard report form builder here




Manage Hazard Reporting Online
It all starts with empowering your workforce to report hazards in the workplace in real-time as they encounter them in the field. Once reported, you can identify the nature of the hazard, classify it by risk level and risk classification type, investigate how the hazard was caused and what actions need to be taken. Is this an ongoing hazard that workers need to be training on and aware of when working in that area or conducting their job activity? or is it a hazard that an be controlled or prevented?

This might lead to establishing a live registry of hazards or an archive or previous ones that are now closed. Trends and analysis can also help identify insights and actions to be addressed in the workplace.

- setup a dedicated Hazard Reporting platform
- empower your workforce with a hazard report app to report all hazards they encounter or are involved with from an app in real-time

- capture extensive hazard data for deep insights and hazard analytics

- make faster decisions about hazards in your workplace
Submit Hazard Reports from an App
The idea is that all workers (contractors, employees and visitors) download the Hazard Report app and have it on hand as part of their work in the workplace to both report hazards they encounter as well as have access to any existing hazards that are in their workplace. This is the ultimate in due diligence to ensure your entire workforce is fully prepared and aware of hazards in real time across the workplace. They can submit a Hazard Report form straight from their phone to record any hazards they encounter.

Submit Hazard Reports from an App
Real time Hazard Reporting
Hazards are real time in the workplace. What was a hazard yesterday might no longer be one today. What you thought was safe yesterday might now be a hazard for your coworkers and yourself today. Hazards are constantly changing, new ones appear and old ones change. It is so critical that employees, contractors and visitors all have access and tools for real-time hazard reporting in the workplace. What does this mean? Using our realtime Hazard Reporting app, staff have a realtime site specific hazard reporting registry and tools to report hazards, to identify them classify them and notifications built in for the ultimate in workplace hazard reporting, hazard identification and prevention of incidents. Attach details to assets, site specific locations and hazardous areas such as what the hazard is, what to do when working there, what to do when something goes wrong, how to report and manage the hazard.

See how our real time hazard reporting app works right here
Best Hazard Report App Tips
Nothing beats fast and easy and that's what makes it such a great easy tool for your workforce. All they have to do is download the free hazard report app and then they have the tool in their pocket for submitting hazard reports in the workplace. This is such an effective tool for discovering new hazards encountered by your workforce and also making that hazards are actually captured and recorded in the first place. How many hazards go unreported in your workplace? How to you empower your contractors to report hazards? How do you know all employees are fully aware how to report, identify and classify hazards and be aware of existing ones in the workplace? Try out the Hazard Report app and download.
Hazard Reporting Software
Reporting hazard via an app is one thing but what about the next part of the workflow? With our platform we have a full comprehensive hazard reporting software platform where you can have a registry of all hazards on site and workflows around that to manage and classify hazards. From identifying hazards and causes through to risk controls around them, a hazard registry of open and closed hazards and assigning actions. Registries might be site based or organisation wide. If site based, you could ensure contractors and employees are aware of the current active hazards for a workplace as part of engaging them into their job task or activity or this might be included in your annual re-induction too. Hazard registries are a powerful living and evolving view of known and emerging workplace hazards and a registry with awareness to staff can help your workforce work more safely.